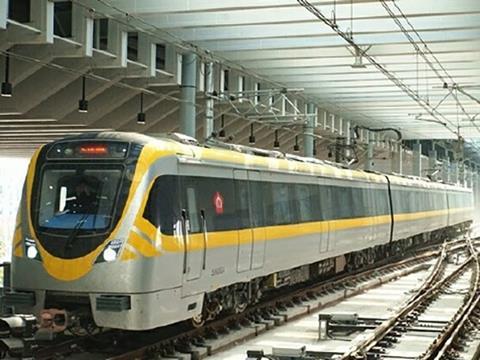 CHINA: Nanjing was not left out of the seasonal multitude of urban rail openings as 2017 drew to a close, with the inauguration of suburban metro Line S9 taking place on December 30.
Also known as the Nanjing–Gaochun Intercity Railway or Ninggao Intercity Railway, the route is 52·4 km long but only has six stations. Serving an area south of the city centre between Xiangyulunan and Gaochun, it operates between 06.00 and 22.00.
The route includes a 3·6 km underground section and 4·6 km at grade. A 12·7 km bridge that also carries a motorway and railway carries Line S9 over Shijiu Lake.
CRRC Nanjing Puzhen has supplied a fleet of 12 three-car Type B trainsets, which will be lengthened to four cars in the future. The rolling stock has a maximum speed of 120 km/h and draws power at 1·5 kV DC. A depot at Gaochun stables the trains.
Siemens has supplied its Trainguard MT signalling. CBTC, CCTV and passenger information data are carried over an LTE network supplied by TD Tech, which is jointly owned by Nokia and Huawei.