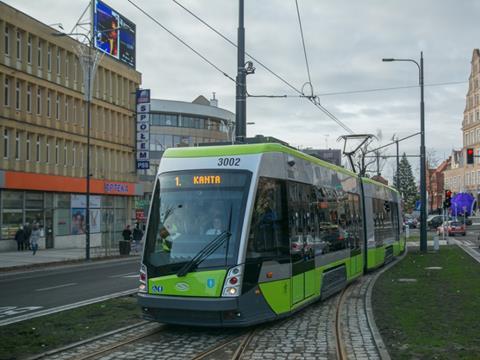 POLAND: MPK Olsztyn has called tenders for the construction of a 6 km extension of the city's 11 km tram network which opened in 2015. Bids are due by June 12 and the project has an estimated budget of 208m złoty.
Construction is due to start in 2019 and end in September 2020. The extension would run from the junction of the main north-south route and the Wysoka Brama branch. It would run southeast along al Piłsudskiego to ul Wyszyńskiego before turning south to reach Pieczewo district. A 270 m viaduct is to be built to carry trams over a busy road junction.
MPK Olsztyn had earlier called tenders for additional rolling stock for the extension. Durmazlar was the sole bidder for a base order of 12 trams with options for 12 more. It bid 107·9m złoty for the base order, which would rise to 206·2m złoty if all options were to be exercised.