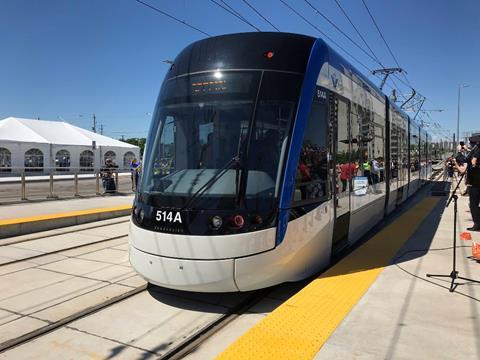 CANADA: The first section of the ION light rail line in the Region of Waterloo was inaugurated on June 21 at a ceremony at Fairway stop in Kitchener. Travel is free until July 1.
The 16 km line serves 19 stops on a mostly segregated alignment between Congestoga in Waterloo and Fairway. Services run every 8 min in the peaks and every 15 min off-peak, and ridership is expected to be 25 000 passengers per day.
The GrandLinq consortium of Keolis Grand River, Plenary Group, Meridiam, Kiewit and Aecon have built the line under a design, build, finance, operate and maintain PPP concession awarded in May 2014. This includes 10 years of operations and 30 years of maintenance. A groundbreaking ceremony was held in August 2014.
Bombardier has supplied 14 Flexity Freedom light rail vehicles from its Thunder Bay and Kingston plants under a C$66m contract signed with the Region of Waterloo in 2013 that includes options for 14 more. The five-section low-floor vehicles are 30·2 m long and 2 650 mm wide with a capacity of 200 passengers.
Stage 1 also includes a bus rapid transit route between Cambridge and Kitchener, which opened in September 2015. Stage 2, which is still in the planning stage, will convert this to light rail.