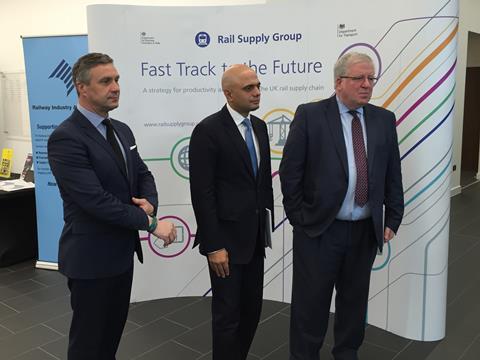 UK: Entitled Fast Track to Growth, the Rail Supply Group's industrial strategy for the industry was launched in Coventry on February 1 at an event attended by Transport Secretary Patrick McLoughlin and Secretary of State for Business, Innovation & Skills, Sajid Javid.

Described as a 'detailed action plan for manufacturing and supply in the UK railway', the strategy document is the result of a collaboration between more than 50 organisations from across the industry. According to RSG Industry Co-chair & President of Alstom UK Terence Watson, the launch marked the 'culmination of two years' work' and the 'the end of the beginning' of the planning phase. 'The hard part is to implement the strategy', he reminded delegates.

The 80-page strategy is divided into four principal areas: creation of the right market conditions for long-term growth; addressing the skills gap; supporting technological development and innovation; and encouraging export growth. It includes a five-year business plan, plus a longer-term outlook looking to at least 2025.

Watson reminded the audience about the importance of the railway supply industry to the UK economy, noting that it employs 124 000 people — more than the automotive sector — and contributes £3·8bn in gross value added to the economy. 'Our sector really matters, but we must have more common purpose and more shared vision', he said.

Watson also recognised that 'there would be some cynicism' around the announcement, and added that 'significant barriers remain' to the strategy meeting its objectives, which include a goal of matching the German rail supply industry's 50% proportion of output as exports. 'I do not believe that UK suppliers can consider themselves world class if they are not winning significant export orders', Watson added, suggesting that the industry should 'prepare for some future time when domestic railway investment is not booming in the way it is now.'

The strategy includes a Best Practice Programme, co-ordinated by RSG, which aims to support 'knowledge exchange between industry leaders and the wider supply chain'. The programme has four initial areas of focus: whole-life cost/value, off-site manufacturing, lean construction, and Building Information Modelling. A series of workshops on each theme are to be held during the first of half of the year.

Engaging small and medium-sized businesses is also one of the strategy's core objectives, and a £20m Rail Supply Growth Fund has been created to support this. The fund is being managed by Finance Birmingham, a subsidiary of the city council, and offers a 'flexible loan scheme' for businesses to target 'commercial opportunities' relating to railway investment.