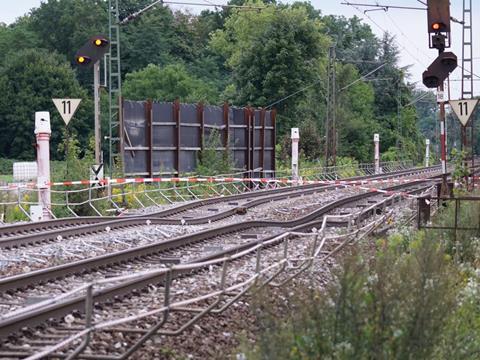 GERMANY: The Karlsruhe – Basel section of European Rail Freight Corridor 1 will remain closed until October 7, following the tunnel collapse at Rastatt on August 12, infrastructure manager DB Netze confirmed on August 22.
Explaining that a sudden inrush of water had destabilised the boring of a new tunnel to carry a freight bypass under the existing main line, DB Netze said this had resulted in the tracks subsiding and a number of adjacent buildings collapsing.
The remedial plan involves removing around 150 m of track and overhead line, excavating the damaged subgrade and casting a 120 m long concrete slab to bridge the tunnel workings. At the same time, the damaged tunnel will be temporarily filled with concrete to safeguard the 4 km of undamaged bore and allow the tunnel boring machine to be recovered.
Board Member for Major Projects Dirk Rompf said DB Netze and the ARGE Tunnel Rastatt joint venture of contractors were working as fast as possible to restore the 'very busy' Rhein Valley line for both freight and passenger services.
During the closure, most inter-city passenger trains have been curtailed and the Zürich – Hamburg night train is suspended. A frequent bus shuttle is operating between Rastatt and Baden-Baden, connecting with local trains and an hourly long-distance service in each direction.
In order to accommodate as many as possible of the 200 freight trains which normally use Corridor 1 each day, Rompf said DB Netze was 'working intensively' to free up as much capacity as it could on its diversionary routes. The Neckar-Alb line via Horb, Tübingen, Reutlingen and Plochingen is already available, while engineering work now underway on the electrified Gäubahn between Stuttgart and Singen will be wrapped up by September 5, a week earlier than scheduled. Other planned works are being postponed.