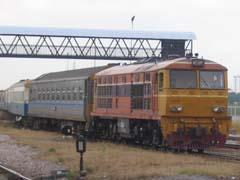 THAILAND: An 8·7bn baht contract for construction of the first phase of the Red Line in suburban Bangkok was signed on December 12.
State Railway of Thailand has finalised the agreement for a 15·3 km line from Taling Chan to Bang Sue with the Unique-Chun Wo joint venture of Unique Engineering & Construction and Chun Wo Development Holdings of Hong Kong. Work is expected to last three years, and includes construction of four stations.
The line will be electrified, and operated by SRT with the private sector being responsible only for construction. A second phase would extend the line from Bang Sue to Rangsit along an existing SRT corridor.