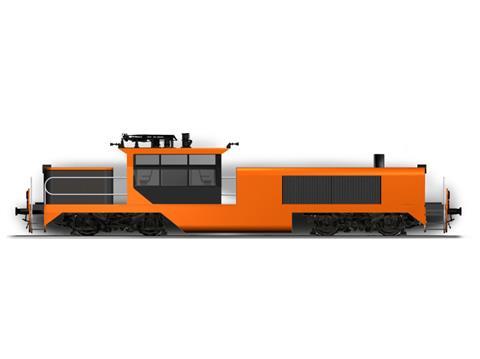 SWITZERLAND: Swiss Federal Railways' Infrastructure business has awarded preferred bidder Alstom a €175m contract to supply 47 Prima H4 electro–diesel locomotives. The four-axle locomotives are scheduled to enter service in 2018, and will be used to haul infrastructure trains and for shunting in yards at Lausanne and Limmattal.
Alstom says particular attention has been paid to the design of the large single cab, which is intended as a 'working and waiting' space for up to four people. Staff will be able to travel to worksites onboard the locomotives, and also spend time in the cab while on-site. The cab will have heating, ventilation and air-conditioning, and be protected from vibrations and the air-pressure changes experiences when entering tunnels. There will also be storage space for the crew's personal belongings.
As well as being able to work from 15 kV 16·7 Hz overhead electrification, the Prima H4 locomotives will have two diesel engines with electric transmissions and an automatic start-stop system. This is expected to provide a 20% reduction in fuel consumption compared with a single-engine locomotive. The maximum speed of 120 km/h will enable infrastructure trains to be pathed between revenue services.
'The new and more powerful vehicles will allow us to cope with the increasing construction and maintenance volume with fewer vehicles and in a more efficient way', said SBB Infra management board member Désirée Baer. 'Thanks to its improved energy efficiency, Alstom's Prima H4 will allow SBB Infra to reduce its CO2 emissions by up to 6 000 tonnes per year.'
The locomotives are to be manufactured at Alstom's Belfort plant in France, with project management in Switzerland.