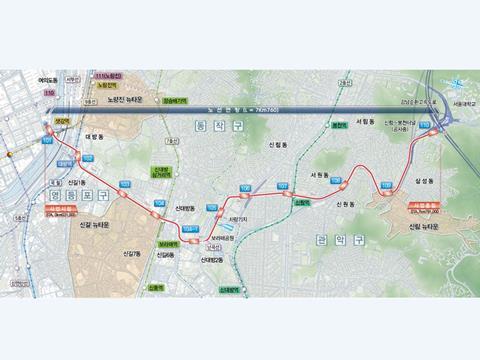 SOUTH KOREA: Construction of the Sillim Line in southwest Seoul started on October 18. The underground metro line is due to be built in 60 months, with revenue service expected to start in 2021.
The 7·8 km line would run south from Yeouido to Seoul National University. It will have 11 stations, including interchanges with metro lines 1, 2, 7 and 9. Services will be operated by a fleet of 12 three-car rubber-tyred trainsets and the end-to-end journey time is expected to be 16 min.
The city signed a build-transfer-operate contract on August 12 with the Nam Seoul Light Rail Transit consortium of 14 companies led by Daelim. Half of the 560bn won cost would be provided by NSLRT, which will operate the line for 30 years, with 38% coming from the city and 12% from the national government.
The Sillim Line forms part of the Seoul City Plan to Build Railways released on June 30. This covers seven new metro lines and extensions to three existing lines, to be completed by 2025.