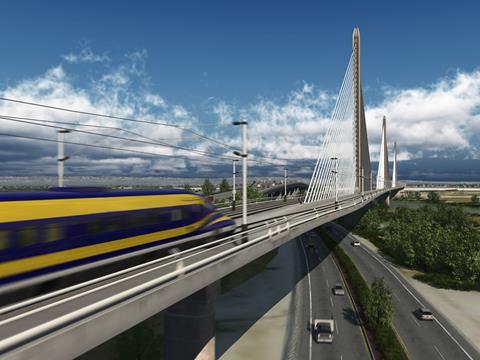 USA: The programme to build a high speed rail network through California linking Los Angeles with the San Francisco Bay Area is facing 'serious challenges', according to a report issued by the state auditor on November 15.
Many of the risks relate to California High Speed Rail Authority's decision to make a rapid start on construction of an Initial Operating Section in the Central Valley. Linking Madera with the northern edge of Bakersfield, the IOS must be completed by December 2022 to meet a federal government deadline.
The audit report points out that CHSRA has identified more than $28bn of funding towards a projected total construction cost of $77·3bn, as outlined in its 2018 business plan. However, it has only secured $12·7bn of this. Construction work completed to date has exceeded the budgeted cost, with $600m incurred in changes to civil works contracts and a further $1·6bn of impairments expected on the IOS.
Many of the cost control problems can be explained by CHSRA's decision to proceed 'before it completed many critical tasks such as purchasing land, planning how to relocate utility systems, or obtaining agreements with external stakeholders', the report says. This pressure was driven by the federal funding deadline, which if missed could lead to CHSRA needing to repay $3·6bn in grants.
Looking ahead, the auditor reports that the risk of more cost control issues is 'high'. It notes that since 2012, CHSRA has 'incrementally modified' its plans to include much more so-called 'blended operation', where high speed trains would share existing transport corridors. This could include sharing tracks with other trains, as proposed in the Caltrain commuter corridor between San Jose and San Francisco which is now being electrified, or sharing an alignment, as with the freight railway between Gilroy and San Jose.
The auditor says that while this approach has helped to reduce the project's upfront construction costs, it also means that speeds will be lower, and CHSRA is not in position to define the service pattern or journey times that could be offered upon completion. These could only be confirmed once CHSRA has appointed a 'private sector operator' to run the trains. In addition, CHSRA has now 'exhausted' all the options for using existing transport corridors for 'blended operation', meaning that there is less scope to mitigate the cost of future sections.
The auditor notes that the current funding allocation is not sufficient to connect the IOS to the rest of the rail network, and even to complete the IOS by the 2022 deadline would require 'an aggressive construction schedule' with work proceeding twice as quickly as it has to date.
The audit identifies serious risks relating to contractual oversight, noting that CHSRA employs just 56 contract managers across the organisation, and many of these staff do not provide oversight on a full-time basis. A Contract Management Support Unit was created following internal reviews in 2016-18, but many oversight functions have been placed in the hands of external contractors, 'for whom the state's best interest may not be the highest priority'.
To remedy its concerns, the auditor makes a series of recommendations. These include CHSRA providing quarterly updates to the state legislature on construction progress in the Central Valley from the start of 2019. It reports that CHSRA has 'agreed with our recommendations and identified actions it is taking to implement them'.