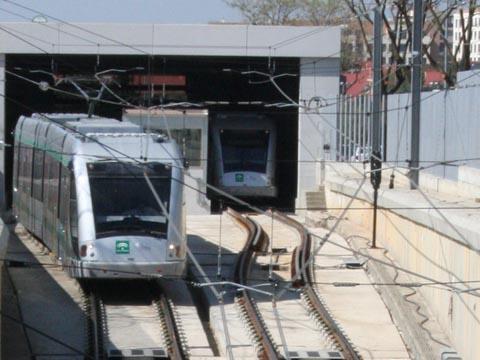 SPAIN: The first phase of Sevilla metro Line 1 was officially inaugurated on April 2 by the President of Andalucía, Manuel Chaves González. He was joined at the event by Minister of Development Magdalena Álvarez Arza and the region's head of public works Luis García Garrido, together with representatives from the four municipalities served by the route.
Speaking at the opening ceremony, García Garrido said Line 1 was an 'icon' of modern Andalucía, and amongst the most advanced in the world. It is the first metro in Spain to be equipped with platform screen doors and a ticketing system based solely on smartcards, he explained. Following the inauguration the dignitaries visited the workshops and control centre, where they boarded the first train which departed at 13.40.
After the official opening, the metro was opened to the public at 14.00, with free rides for the remainder of the day. More than 40 000 people rode the line over the following nine hours, requiring 15 trains in service. Revenue services began the following day.
The first phase of Line 1 runs for 18 km from Ciudad Expo in the southwest to Condequinto in the southeast, and currently serves 17 stations, of which 11 are underground. Interchange with RENFE's suburban and regional services is provided at San Bernardo in the city centre, and with the long-distance bus station at Prado. The station at Puerta de Jerez near the cathedral has not opened yet, pending completion of repairs following a ground collapse in December.
Provision has been made for a further interchange station at Guadaíra, where the metro intersects the RENFE suburban ring line. The final section of Line 1 from Condequinto to Olivar de Quintos, which will also run in tunnel, is still under construction.
Line 1 is operated by a fleet of five-section LRVs supplied by CAF, which are equipped for automatic train operation. Maximum speed is 65 km/h. Services operate at 4 min headways at peak periods.
Meanwhile, planning is underway for Lines 2, 3 and 4, with the city hoping to award the first construction contracts in 2010. Line 2 would run east-west for 12·9 km linking Isla de la Cartuja with Torreblanca through the historic city centre. Line 3 would provide a north-south axis of 11·6 km paralleling the Guadalquivir river between Los Bermejales and Pino Montano, while the 16 km Line 4 will form a horseshoe shaped orbital route around the city centre.