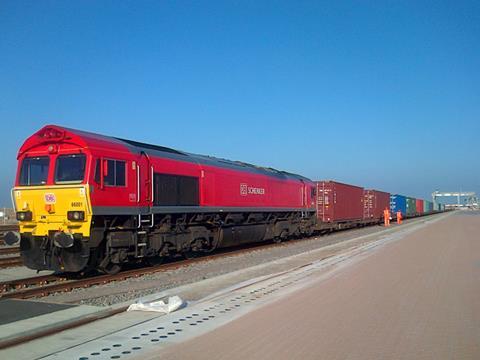 UK: DB Schenker Rail (UK) operated the first intermodal train from the new London Gateway port on the Thames estuary at 02.00 on September 24, carrying containers to its Trafford Park terminal.
The containers had been discharged from the ship ZIM Rotterdam, which arrived at the port on September 13 after being diverted from Felixstowe for essential repairs following a fire which occurred as it approached the Suez Canal on August 23. The containers formed the first commercial cargo unloaded at Thames Gateway, ahead of the official opening in November.
DB Schenker Rail (UK) said it 'worked tirelessly around the clock' with port operator DP World London Gateway to develop a plan to move the containers.
'I haven't seen collective support from the industry like this in any way before and it's amazing to think we have put a service together in just a few days, let alone from a non-operational port', said DB Schenker Rail (UK)'s Managing Director, Logistics, Carsten Hinne.
DB Schenker Rail (UK) is to run regular services to Trafford Park and Daventry International Rail Freight Terminal when the port opens, and said it is pursuing the development of services from London Gateway to mainland Europe via the Channel Tunnel.
The London Gateway project was described in the September 2012 issue of Railway Gazette International, which subscribers can read in the digital archive.