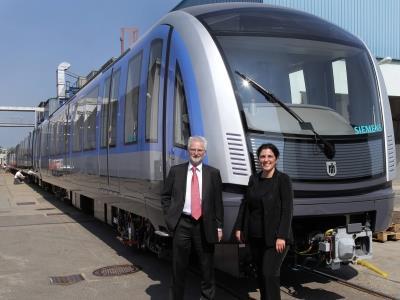 GERMANY: The first of 21 C2 metro trainsets for München was rolled out at Siemens' factory in Wien on April 26. It is to undergo trials at the Wegberg-Wildenrath test centre before delivery.
'The planned start of the test runs marks an important milestone on the way to on-time certification of the train,' said Sandra Gott-Karlbauer, CEO of Siemens' Urban Transport business unit.
Siemens is supplying München city transport operator MVG with 21 six-car C2 trainsets under a €185m contract placed in 2010. There are options for a further 23 sets.
The first four trainsets are due to enter service with the start of the winter timetable in mid-December 2013, with the remainder scheduled for delivery by the end of 2015. Final assembly is to take place in München from the seventh trainset onwards.