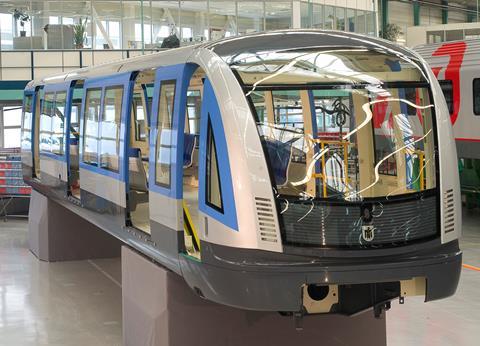 GERMANY: The C2 metro trainset for München operator MVG was unveiled on October 5 as the first painted bodyshell was formally presented to city utility company SWM at the Siemens Rail Systems plant in Wien. Under what the manufacturer says is the largest rolling stock order ever placed for the München U-Bahn network, Siemens is supplying a total of 21 six-car C2 trainsets for €185m, with options for a further 23 sets.
Deliveries of the C2 fleet are scheduled to take place between 2013 and 2015, with final assembly taking place in München from the seventh trainset onwards. Assuming that vehicle acceptance is completed on time, the first four of the new fleet are due to enter service with the start of the winter timetable in mid-December 2013. Of the 21 sets, 14 are intended to replace older trains and the other seven to help increase service frequencies.
Compared to previous builds of the München C car design, the C2 features full-width gangways and higher capacity, with each trainset able to accommodate a total of 220 seated and 720 standing passengers. Designed for conversion to driverless operation, the C2 has a maximum speed of 90 km/h and can accelerate at up to 1⋅3 m2. Siemens says that up to 50% of braking energy can be recovered and that the trains themselves are 'more than 95% recyclable'.