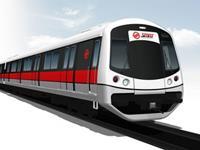 SINGAPORE: Land Transport Authority has awarded a consortium of Kawasaki Heavy Industries and CSR Qingdao Sifang a S$136·8m contract to supply a further 12 six–car Type C151B metro trainsets to increase capacity on the North–South and East–West lines.
The latest contract announced on September 22 takes the total order to 57 trainsets. The first was delivered in May and is expected to enter service in the first quarter of 2016, with the rest to enter service progressively by mid-2019.
LTA said the NSEWL fleet would be its first with tip-up seats to provide additional flexibility in seating configuration. It would also have 'commuter-centric' features, including three rows of straphangers, triplicated grab-poles for standing passengers and a dynamic route map display above every door.
The Kawasaki/CSR consortium is also delivering 91 trainsets for the Thomson–East Coast Line.