Save time, improve quality, and drive productivity through 3M Adhesive and Tape solutions.
Rail car availability is crucial for rail operating companies, not only to compete in the rail industry, but also to win over other travel modes in a changing global passenger transport market. Enhancing availability and reducing maintenance costs can be achieved using 3M bonding technologies, which have been developed to save time and improve the reliability of assemblies. Whether you're considering a new design and want to optimise maintenance operations during the rail car lifecycle, working on a complete refurbishment of an existing rail car, or simply needing quick repair solutions, 3M bonding technologies help reduce turnaround time and refurbishment costs, while achieving the right performance and complying with relevant safety requirements.
Designing for Maintenance
Designing for maintenance of rail cars is an advanced development approach linking product design, performance, and life cycle to the two types of maintenance methods: preventive and corrective. From the early stage of project development, the designer has the objective and responsibility to create parts, materials, and connections with the purpose of reducing the cost of repair or replacement, while maintaining the specified performance.
For interiors, designing convenient assemblies is a critical step of the Design for Maintenance process. "Welding or some over-dimensioned high strength adhesive families may have a negative impact on maintenance costs by increasing time to demount and restore," says Henri Garcia, European Adhesive Engineer at 3M. "Screws may become loose, and bolts may break lighter and thinner materials that are widely used in rail interiors."
Self-adhesive tapes from 3M are balanced bonding technologies that help address rail interior design for maintenance challenges. From VHB acrylic foam tapes by 3M used to bond multi-material assemblies, to 3M transfer tape 9775WL and the new intelligent foam tape solution from 3M for floor cover bonding, along with Dual Lock reclosable fasteners from 3M, mean 3M self-adhesive tapes combine performance and convenience for the most challenging designs and maintenance needs.
Designing floors with 3M's new intelligent solution for flooring, a self-adhesive foam system for long-term performance, bubble-free finishes, and the advantage of clean removability.
An innovative system developed by 3M for an adjacent Industrial Market is an intelligent solution for floor cover bonding, which provides long-term performance with floor covers tightly bonded on to floor panels such as aluminium and plywood, with extra features of bubble-free application thanks to 3M's MicroComplyTM system, as well as clean removal after standard ageings defined in typical rail interior specifications. Indicative fire, smoke, and toxicity report EN 45545-2 R10 is available on demand.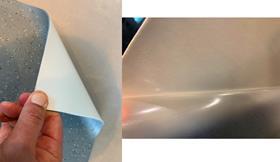 New intelligent solution for flooring from 3M: a smart self-adhesive foam tape for convenient application without air entrapment, elasticity and gap filling properties, providing easy removal.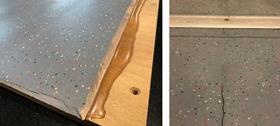 Floor cover bonded with stiffer liquid adhesives: cracks during service, very difficult to remove, floor cover and panel damaged on removal.
Click here to watch our on demand Rail Flooring Solutions webinar.
Heavy refurbishment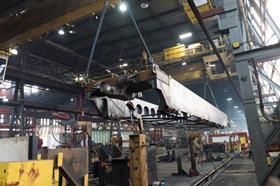 Refurbishment is an important step in a rail car life cycle when rail operating companies decide to upgrade. In some projects, the functionality may even be transformed to a new type of use (e.g., conversion to sleeping cars or high-speed cars).
Design of rail interior components with a modular approach is key for manufacturing and refurbishing. It optimises mounting costs, reduces downtime, and improves the quality and final appearance. Modular kits, manufactured in controlled workshop conditions, allow OEMs and operators to easily produce, integrate, repair, or replace the prefabricated modules in a rail interior. A modular design will help reduce and monitor costs associated with poor quality, accelerate assembly processes, and also enable flexible designs; a module can be replaced more easily by another one when a rail car interior has to be adapted to a new passenger space layout.
"For Heavy Refurbishment of an existing rail car, VHB Tapes and Dual Lock Reclosable Fasteners from 3M are one of many solutions that help speed up your assembly process, increase durability and productivity and lighten the load by reducing the number of mechanical fasteners needed" advises Rebecca Johnson, Senior Application Engineering Specialist at 3M.
VHB acrylic foam tapes and Dual Lock Reclosable Fasteners from 3M are the preferred joining methods for modular and flexible rail interior design, as they will reduce downtime for changing a layout to a different arrangement of parts like floor modules, walls panels, ceiling modules, bathroom modules or luggage compartments, while maintaining high assembly performance. VHB acrylic foam tapes and Dual Lock by 3M are durable and reliable adhesive technologies that help modify design arrangements, in a convenient and productive way, being easier to demount without damaging the parts.
Designing interior modular elements with 3M™ Dual Lock™ Reclosable Fasteners: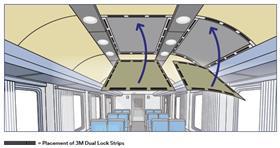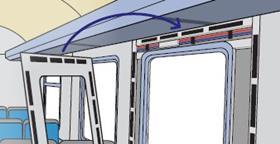 3M™ Dual Lock™ Reclosable Fasteners are an easy way to join two components in the most challenging applications. They do not require special tools for installation and they securely hold interior rail components without visible fasteners to mar the final finish. For over 30 years, 3M™ Dual Lock™ Reclosable Fasteners has been one of the solutions that the rail manufacturers have relied on for interior fastening. By substituting 3M Dual Lock for traditional mechanical fasteners, including nuts/bolts, screws or clips, a designer can eliminate visible fasteners, reduce noise and vibration, and support light weighting initiatives. These interlocking mechanisms are perfect for achieving secure attachment in a moving vehicle while also allowing two components to be detached easily for occasional service, maintenance, or refurbishment.
Click here to download the full 3M Dual Lock design guide for rail and bus
Quick fix
For repairing purposes, 3M fixing solutions offer speed and performance. In many maintenance applications, where a surface protection against impacts or cleaning agents is needed, watertightness has to be improved, or specific objectives are targeted (such as corrosion protection or squeaks and noise reduction), 3M single side coated self-adhesive tapes can offer improvements in consistency and durability, as well as ergonomic and Environmental Health & Safety (EHS) advantages, compared to other repairing methods.
"When it comes to small reparations, we don't want rail cars to be immobile too long as it represents a high cost. Quick fix solutions, such as single sided tapes, that help prevent water infiltration until the next big maintenance operation program, assuming there are no specific security issues, will help save time and money. They're easy to apply, very high-performing solutions" notes Tiphaine Flament, Advanced Application Engineer at 3M.
| Quick Fix Solution | Characteristics | Advantages and Benefits | Processability andMaintainability |
| --- | --- | --- | --- |
| 3M™ Industrial Protective Film 7070UV | Protective film against impacts and cleaning agents, long-term durability with removable acrylic adhesive | Instant repair. Protects sensitive surfaces from impact damages, scratches, harsh cleaners. | Convenient self-adhesive acrylic adhesive, clear backing for aesthetic-requirements. Easy to remove with specific method. |
| 3M™ Aluminum foil tape 425 | High-performance thick aluminium foil backing with an acrylic self-adhesive | Seals and protects surfaces from heat. Enhances HVAC conducts and systems performance. | Easy to stick, remove and replace. |
| 3M™ Corrosion protection zinc-foil tape 8590 | Zinc foil backing with a modified acrylic self-adhesive to protect metals from corrosion. | Cathodic corrosion protection of metals by acting as a sacrificial anode coating on surface. | Easy to stick, remove and replace. For corrodible screws protection, combine 3M 8590 with 3M Thread Locker adhesive TL43 to avoid loosening. |
| 3M™ Squeak and rattle protection tape 5425 | Ultra-High Molecular Weight (UHMW) Polyethylene backing coated with a durable acrylic self-adhesive. | Creates a low-friction surface on protected parts to reduce squeaks, rattle and noises produced by vibrations. | Easy to stick, remove and replace. |
| | | | |
3M high-performance single coated tapes have functional backings coated with superior performance acrylic adhesives: these functional backings combined with a self-adhesive technology provide convenient instant application and help restore or improve a parts resistance to many harsh environmental exposures such as impacts and abrasion, water, UV, corrosion, fatigue, friction, and temperature.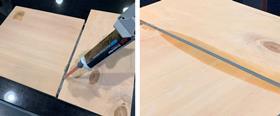 Restoring damaged floor panels and seam seals with 3M™ Scotch-Weld™ Metal Bonder Acrylic Adhesive DP8407NS:
For restoring purposes, such as damaged floor panels caulking and smoothing, replacement of degraded seam-seals between floor panels, or even bolt heads filling, 3M™ Scotch-Weld™ Metal Bonder Acrylic Adhesive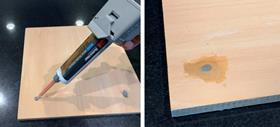 DP8407NS is a fast-curing, non-sagging, non-shrinking adhesive, and filler that can be easily sanded/abraded in 30 minutes at room temperature. This new-generation acrylic structural adhesive has a reinforced formulation with superior resistance to fatigue produced by vibrations, impacts and cleaning agents.
Click here to watch our on-demand webinar on interior panel bonding solutions
SUMMARY
Designers and Maintenance Managers can choose from a wide range of 3M tapes and adhesives solutions to make rail parts more durable and easier to process and maintain.
To address drive down turnaround times and refurbishment costs, while achieving demanding quality and safety standards, 3M's unique portfolio provides innovative and convenient solutions for the 3 types of maintenance approaches:
Designing for Maintenance purposes
Heavy refurbishment of rail cars
Quick fix, repair and restore
For more information on addressing assembly and design challenges in rail market, please visit 3M Rail Industry Solutions website.
To request contact from a 3M rail expert, please connect with us.
3M, Dual Lock, VHB and Comply are trademarks of 3M Company. © 3M 2021. All rights reserved.
At 3M, we are experts in helping you be confident you'll get it right the first time. Our manufacturing technologies help you avoid do-overs and deliver on time. From adhesives and air filters to water purifiers and window security films, our goal is to help you and your company run more efficiently.