A daunting list of challenges affect all of transportation in the 21st century. As demand rises, so do concerns about air quality and traffic congestion on roadways. Governments are responding to climate change reports with tighter regulations related to energy consumption. Sources of energy are shifting to accommodate.
This is good news for the rail industry – it is based in a rich history of comfort and luxury - and lends itself to electrification and other innovations as the world strives to reduce CO2 emissions. The European Union is promoting what it sees as a model shift from road to rail as it works toward a Single European Railway Area (SERA).
Along with that, programs like Shift2Rail foster the introduction of quieter, more comfortable trains to market with a focus on comfort, capacity and lower life-cycle cost. Even today, many solutions for upgrading comfort and safety – perhaps the most vital factors for rail and any mode of travel – are easy to access and easy to implement, whether for newly manufactured trains or for upgrading existing rolling stock.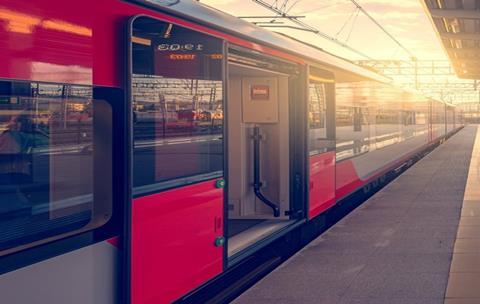 Improved comfort for interiors
Today, a primary reason that people choose rail travel is it's a great way to enjoy the view no matter what the outdoor temperature is. The problem is that most of today's railcars use mechanical systems (HVAC) that maintain comfortable temperatures but ultimately consume extra fuel. Railcar designers are faced with a dilemma. The view – what the people choose rail for – depends on large areas of glass throughout the train. However, from an energy efficiency standpoint, it is not practical as the visual light and infrared rays (IR) pass easily through glass and other transparent surfaces into the cabin. They are absorbed by the seating, walls, carpets and other interior objects and radiate as heat. The result is that along with the scenery comes added heat and added costs.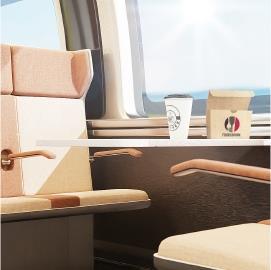 Since rail operators need to meet aggressive targets (achieve climate neutrality in 2050) for the reduction of CO2 emissions in their operations, it becomes increasingly more difficult to keep passengers comfortable and reduce the usage of the fuel-consuming HVAC systems. When temperature rise too high, the systems need to work overtime to achieve the same level of comfort.
3M™ Sun Control Window Films are an innovative solution. Each film is designed to precisely control solar rays, and providing a solution for a specific need, whether it is glare reduction, comfort, energy saving or privacy. Plus sun control window films can block up to 99% of harmful UV rays. Passengers stay comfortable, and the machinery that delivers that comfort doesn't need to work as hard, resulting in the train itself potentially consuming less fuel.
A more immediate and practical aspect of comfort concerns the railcar restroom. People commonly use the appearance and cleanliness of the restroom as a barometer for the quality of the entire establishment, no matter what type. In rail, it's vitally important to make the leap from "clean" to "comfortable".
One way to do that is to install fixtures made from premiere materials, like wood, slate or marble, to create ambience. If you are like most rail operators, this option is a non-starter due to budget and weight constraints. A practical solution: architectural films. 3M™ DI-NOC™ Architectural Finishes are durable vinyl adhesive films available in simulated woodgrains, stone, metallic finishes and more. They apply quickly and easily over existing surfaces such as walls, cabinets, and countertops. They allow rail designers to achieve the comfortable atmosphere, without the uncomfortable price.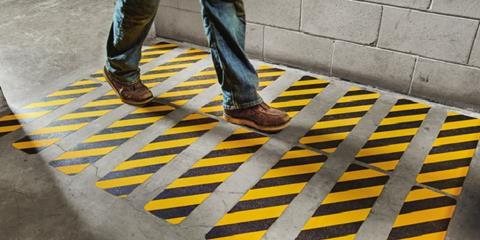 Enhanced safety for passengers and employees
Rail operators are continually concerned about the possibility of slips and falls – not just for passengers, but for the crew as well. Clean floors and clear wayfinding demarcations are a start. But when it comes to helping prevent people from falling down on a moving railcar, the solutions should be a bit more robust.
One such solution: 3M™ Safety-Walk™ Slip Resistant Tapes and Treads. These products consist of abrasive mineral particles bonded by a tough, durable polymer to a choice of surfaces for dimensional stability, conformability and resilience. The reverse side is coated with a high-performance adhesive that adheres to floors, steps, ramps, ladders and other areas of the railcar where passengers and crew may require extra traction. In fact, several versions of these tapes and treads have been certified as providing "high-traction" by the National Floor Safety Institute (NFSI).
The possibility of break-ins and vandalism has always been a big concern when rolling stock is at rest. But as trains become faster (as much as 320 kmh/200 mph) worldwide, there's a growing need for impact-resistant onboard safety measures as well.
3M™ Safety and Security Window Films have specifically been designed for that added layer of protection and they are excellent for railcars. These durable films have been tested under different standards to help protect people from injuries caused by glass shards. These films can help protect against impact from birds, rocks and many other objects, even if the railcar is traveling at a high speed. 3M anti-graffiti and exterior films are also excellent for added protection against wear and weathering.
Window films, architectural finishes, anti-slip tapes and many other solutions for cost-effective rail operations are offered by 3M – an industry leader in transportation solutions for decades. 3M provides global design, training and technical support for prototyping or piloting new products to suite your specific needs. We also have global warranties and meet fire standards (EN45545 and NFPA 130).
For more information about 3M rail solutions, visit our website: https://engage.3m.com/rail
At 3M, we are experts in helping you be confident you'll get it right the first time. Our manufacturing technologies help you avoid do-overs and deliver on time. From adhesives and air filters to water purifiers and window security films, our goal is to help you and your company run more efficiently.