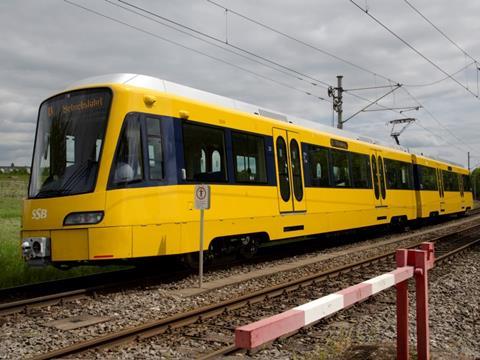 GERMANY: Stuttgart transport operator Stuttgarter Strassenbahnen has exercised an option for an additional 20 S-DT8.12 light rail vehicles from Stadler Pankow, the manufacturer announced on January 13. The order is worth €73m including spare parts.
SSB placed an initial order for 20 LRVs in early 2010, the first of which entered service in late 2013. Delivery of the additional vehicles is expected to begin in mid-2016.
The S-DT8.12 is part of Stadler's Tango family. Each modular air-conditioned vehicle is 39·1 m long and 2 650 mm wide, with capacity for capacity for 250 passengers, including 106 seated. The standard-gauge bidirectional vehicles have a maximum speed of 80 km/h and eight independently powered axles.
'The vehicles are easy to adapt to the existing city centre infrastructure and are ideally suited to the conditions on the Stuttgart tram network. They can handle tight bends and gradients of up to 9%', explained Stadler Pankow Director Michael Daum.