Founded more than 80 years ago, Stadler manufactures high-speed trains, intercity trains, regional and commuter heavy rail trains, underground trains, tram-trains and trams. It provides main-line locomotives, shunting locomotives and passenger carriages, and is the world's leading manufacturer in the rack-and-pinion sector. Its rolling stock offers maximum comfort for passengers and is reliable, safe, innovative, high-quality and built to last. Stadler's range of signalling products enables trains to operate safely, efficiently and in an environmentally-sustainable way. The company is at the forefront of green technology and keen to promote social value.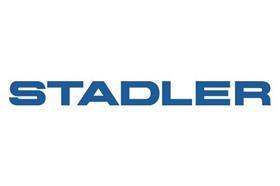 Address:
Stadler Rail Management AG
Ernst-Stadler-Strasse 1
CH-9565 Bussnang
E-Mail: stadler.rail@stadlerrail.com
Phone: +41 71 626 21 20
Website: Home - Stadler (stadlerrail.com)
LinkedIn: Stadler - LinkedIn
Facebook: Stadler - Facebook
Stadler started in 1942 as a small engineering firm, but today it is a global market player with over 13,500 employees. It provides innovative and intelligent solutions for rolling stock, train maintenance and signalling.
Tailormade solutions for complex customer requirements
Stadler works in close partnership with clients, developing products collaboratively to meet their requirements. It handles requests with agility, deploying energy, expertise and ingenuity in response to their challenges.
Although Stadler trains operate all over the world, from the rocky mountains in Canada to Mount Corcovado in Rio de Janeiro, the company is proud of its Swiss roots and the dominance it enjoys in its home market.
Many of Switzerland's specifically developed rack-and-pinion railways run on steep mountain tracks in the Swiss Alps. Stadler is honoured to be the manufacturer of the Pilatusbahn, a vehicle with a horizontal rack wheel for the steepest rack-and-pinion railway in the world. This feature is found nowhere else on the globe.
Innovative propulsions enable a greener mobility
As well as enabling passengers to get from A to B safely and comfortably, Stadler's innovative rolling stock relies on cutting edge green technology.
With rail among the most environmentally-friendly mode of transport, Stadler invests in green technology to ensure that its products and services continue to cut carbon emissions.
Trains with new propulsion systems, such as hydrogen or batteries, promote sustainability while avoiding costly infrastructure upgrades for the client. The FLIRT H2 is the first hydrogen train in the US, and will make a significant contribution towards decarbonising the rail network in this country.
The battery-powered FLIRT Akku, meanwhile, enables German rail operators to electrify their whole network without installing more overhead lines. In tests, the FLIRT Akku travelled more than 220km in battery-only mode, the longest distance on record and documented in the Guinness World Records book.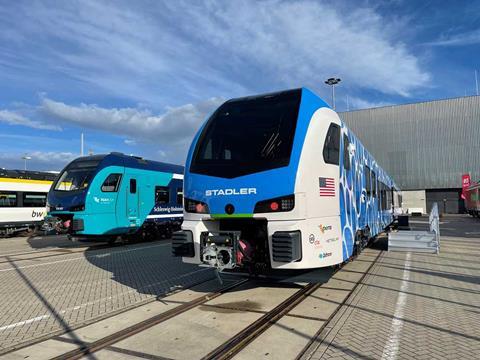 As well as helping to move passengers, Stadler is also committed to transport freight in the most smart and energy-efficient way. Its EURO9000 is Europe's most powerful hybrid-locomotive and has a traction force of up to 500kN. This enables heavy freight trains to operate with only one locomotive, which is cost-effective for customers and reduces the energy required for propulsion.
Technical innovation to promote efficient transport
With more than 80 Service locations in over 20 countries and 2,200 full-time staff working within this area of the business, Stadler provides tailored maintenance packages to optimise the cost efficiency and availability of clients' fleets. It offers full service; modernisation and overhauls; spare parts and material supplies; vehicle repairs; service support; and rail data and maintenance software. Customer benefits include availability, lower number of spares, improved reliability and an enhanced reputation among passengers.
An efficient railway requires more than innovative rolling stock and reliable maintenance. Demand is increasing for Stadler's sophisticated signalling technology. Its portfolio offers packages in Automatic Train Control Operation, European and national solutions for train control, supported and even driverless operation with Communication-Based Train Control. In 2026, Stadler will provide the world's first driverless rack-and-pinion railway to a Swiss customer. Continuing research and development in this field will allow it to further drive change within the industry.