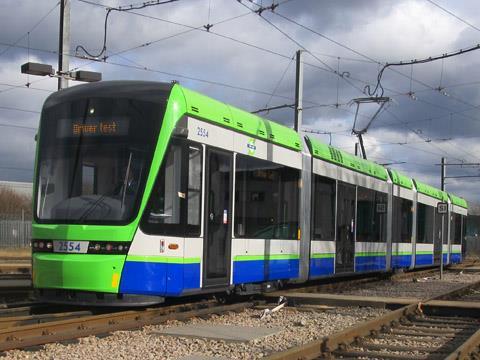 UK: Plans for expansion of the Croydon Tramlink network to serve the neighbouring London Borough of Sutton were endorsed by the borough council on May 23, with the publication of an 'economic benefits prospectus' commissioned by the Opportunity Sutton development partnership.
Transport for London is currently developing proposals for an 8 km branch, which would diverge from the existing Croydon - Wimbledon route near Morden Road and run to Sutton via Morden town centre and St Helier Hospital. This is provisionally costed at £240m.
A second phase priced at £60m would see the line extended by 3 km along the existing railway alignment from Sutton to Belmont to serve a new Life Science Cluster taking shape around the cancer research centre at the Royal Marsden Hospital.
The prospectus considers how the tram extension would support economic development and regeneration objectives across the borough and attempts to evaluate the potential benefits, including job creation and journey time savings.
'There is a clear business case', said Sutton Council's deputy leader Colin Hall, adding that the tram would 'enable access to employment, to education, and improve the prospects for our town centre businesses. Engineering studies show that bringing the tram to Sutton is not only feasible, but is deliverable at an affordable cost to the public purse.'
Attending the launch of the report on May 23, local transport minister Norman Baker emphasised that he fully supported light rail, as 'it is one of the cleanest and greenest forms of transport. With the right scheme in the right place, it has the potential to encourage people out of their cars and on to public transport', as well as supporting economic growth in the areas served.