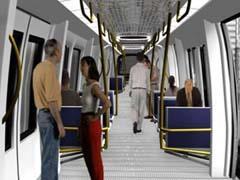 AUSTRALIA: New South Wales Transport Minister David Campbell has announced that the proposed North West metro in Sydney is to be deferred because of 'the size of capital required and the current economic climate'.
'The Government is facing tough decisions as part of the mini-budget process', Campbell said on October 31. 'We have decided to defer the North West Metro project and will stage the delivery of the South West Rail Link so the infrastructure matches growth in the area.'
Proceeding with the A$12·5bn metro 'would have meant doing nothing else, no extra money for hospitals, schools and other essential public transport.' The state will now buy 300 extra buses, of which a third will be allocated to North West routes.
The proposal for a 38 km metro linking central Sydney to Rouse Hill was announced by Premier Morris Iemma on March 18. The state had planned to release a product definition report during November, and the opening of the first section was planned for 2015.
Other projects are still in progress. 'We have also put forward a strong case to Infrastructure Australia for a Commonwealth-funded CBD Metro', said Campbell 'This will be the key component of future rail transport in Sydney and will give the government scope for further metro extensions.'