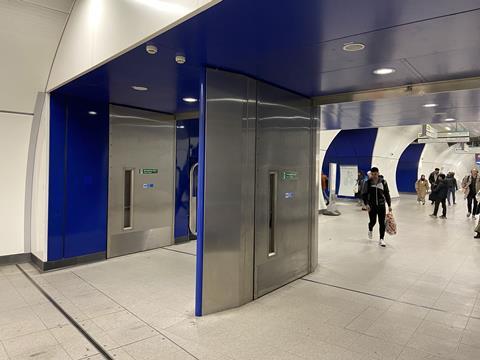 UK: Rhino Doors has designed, supplied and installed 20 self-closing fire doors for the cross passages at London Underground's Bank station in a £1m project which the company says presented a number of logistical challenges.
Rhino worked alongside Bank Station Capacity Upgrade project contractor Dragados to install 18 double-leaf and two single-leaf oversized latchless fire doors which self-close to provide a barrier against smoke and 60 min of integrity fire resistance from either side.
The stainless-steel doors are held open by electromagnets, and provide protected escape routes and places of refuge in an emergency.
'As well as the demands of working at one of London's busiest interchange stations over a year, we had to deal with several technical challenges', said Rhino's Chief Engineer Dr Chris Norris.
'Site installation had to be carried out within restricted hours, including engineering hours when no trains were running, to ensure the safety of passengers, the operational railway and our engineers.
'In addition, the irregular tunnel geometry meant that cladding systems for the door surrounds had to be adapted to fit, while unexpected structural loads meant that doors had to be modified.
'We have had to be responsive to the demands of this installation — it has been very much a bespoke solution.'