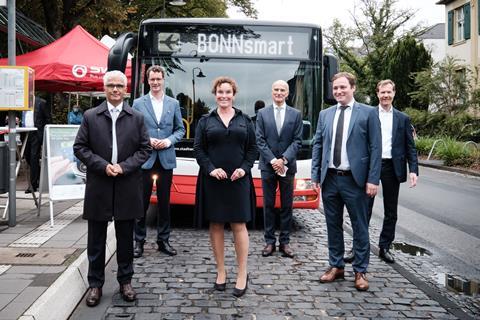 GERMANY: The initial phase of what the partners say is the first contactless ticketing scheme in Germany has gone live in Bonn.
Passengers are able to use contactless bank cards or suitable mobile devices to pay for travel on bus routes SB60 to the airport and 66 to Siegburg railway station. A full roll-out is to follow, with equipment to be fitted to 230 buses and 99 LRVs by the end of October.
Users touch-in when boarding and alighting, with Scheidt & Bachmann's FareGo back-office suite calculating the cheapest price taking into account journeys within a 24 h period. If passengers forget to touch-out, they are billed the fare to the final stop.
BONNsmart is joint project by SWB Bus & Bahn, Postbank, Scheidt & Bachmann, the Kompetenzcenter Digitalisierung NRW and Visa
'BONNsmart makes the use of public transportation more attractive', said Anja Wenmakers of SWB Bus & Bahn. 'In the future, customers will be able to simply step in and off, without any knowledge of tariffs, without cash and without needing to purchase a ticket. And they will provided with the most favourable tariff. The removal of access barriers is a fundamental component for the strengthening of public transport within the multimodal urban transport of the future.'
'Its simplicity is the special charm of the product', said Lars Stoy of Postbank. 'We are convinced that contactless payment, which has received a huge boost owing to the coronavirus, will enable many areas of commerce and public life to become more customer-friendly.'