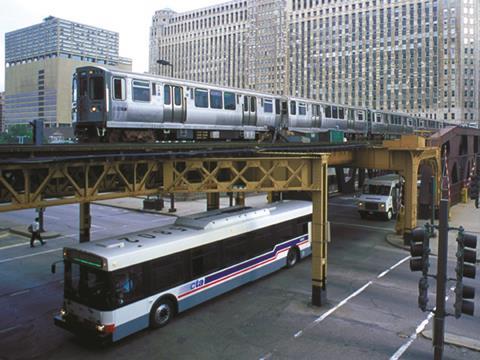 USA: Chicago Transit Authority has launched an ridership information dashboard to help passengers avoid travelling at the busiest times during the coronavirus pandemic.
CTA and the Chicago Department of Public Health have set capacity limits of 15 passengers on a standard bus and 22 on an articulated bus or metro car.
The first component of the dashboard at transitchicago.com covers CTA's 127 bus routes. The average ridership during the past two weeks and the established capacity limits on each route are used to produce a colour-coded guide that indicates likely space availability by route and hour. The information is to be updated weekly.
A similar tool for urban rail services will be launched soon, and CTA is working on tools that would provide real-time information for the longer-term.
'As Chicagoans return to work and discover their "new normal", we welcome them back and encourage them to stay safe by planning ahead using the new dashboard tool and to continue to follow the new habits we've all embraced over the past three months', said CTA President Dorval R. Carter Jr on June 15. 'Social distancing is an important component of healthy travel on public transportation. It is my goal is to put as much information as possible into the hands of our customers, so that they can make informed travel decisions.'