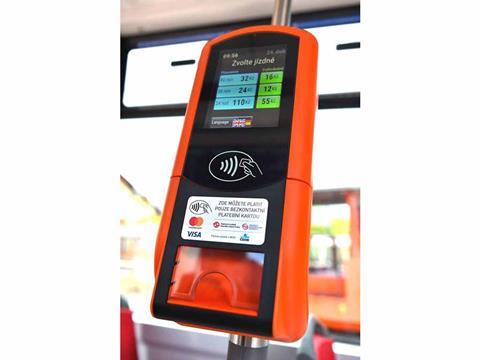 CZECH REPUBLIC: On-board ticket sales were introduced across the Praha tram fleet on April 26, following several months of trials on selected trams.
A ticket vending machine has been fitted to each tram, with the Škoda Transportation 14T trams each having two TVMs. Passengers can purchase full-priced and concessionary tickets valid for 30 min, 90 min and 24 h in the core tariff zones. The TVMs accept payment by contactless bank card, and can also validate tickets and passes bought in advance. Mikroelektronika has supplied the ticket vending machines and payments are processed by ČSOB subsidiary BANIT.
Transport operator DP Praha has also introduced cashless fare collection on its suburban bus routes. It is also replacing old TVMs at stops; the new machines will include touch-screen passenger information.