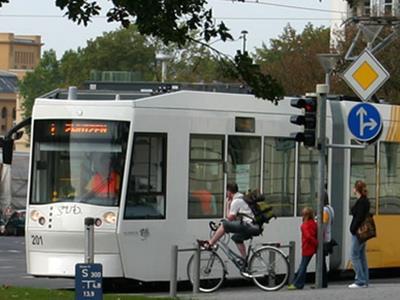 GERMANY: Check-in/check-out ticketing using the Fairtiq app is now available across trains, trams and buses in the Verkehrsverbund Mittelthüringen region covering Erfurt, Weimar, Jena, Gera and Gotha. This is the first time that Fairtiq has been rolled across an entire German fares area, and the deployment adds weekly fare capping to the app for the first time.
The date for going live was brought forward because of the coronavirus pandemic; passengers using the app do not need to handle cash, use ticket machines or buy tickets from drivers. 'Since manual ticket sales had to be severely restricted, we decided to introduce the new system immediately', said Christoph Heuing, Managing Director of VMT.
Passengers swipe on the Fairtiq app before boarding to create a valid ticket for travel. When they reach their destination they swipe again to end the journey. The app uses location data to calculate the optimal price, including any daily or weekly fare capping
The introduction of weekly fare capping is intended to encourage take-up of the app by overcoming passenger perceptions that season ticket prices can only be obtained by purchasing tickets in advance.
Developed by Swiss company Fairtiq, the app can now be used throughout Switzerland and Liechtenstein as well as in Vorarlberg, Linz, Göttingen and Halle (Saale).