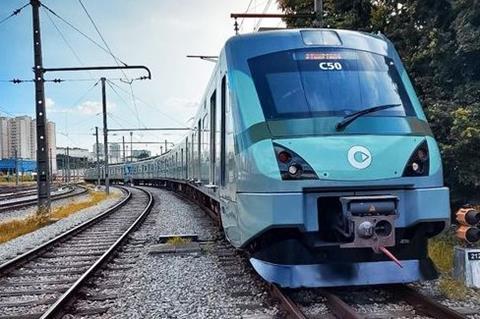 BRAZIL: São Paulo suburban lines 8 (Diamante) and 9 (Esmeralda) operating and maintenance concessionaire ViaMobilidade Linhas 8 e 9 has awarded Siemens Mobility two contracts to modernise the signalling and electrical systems.
For the 41·6 km Line 8, Siemens Mobility will design, supply and install an automated signalling system including Westrace MkII interlockings covering Osasco, Presidente Altino and Imperatriz Leopoldina stations.
There will be track improvements and safety system works at Barra Funda. The substations at Imperatriz Leopoldina, Osasco, Santa Terezinha and Santa Rita will be modernised. New traction sectioning cabins containing electrical switchgear and other equipment will be installed at Barueri, Itapevi and Amador Bueno and equipment modernised at Presidente Altino, Osasco and Quitaúna.
Work on the 32 km Line 9 will include new substations at Cidade Jardim and Socorro, renovation of the Jaguaré and Morumbi substations, new traction sectioning cabins at Ceasa, Pinheiros, Berrini, Santo Amaro, Jurubatuba and Grajaú, and renovation of the Cidade Dutra cabin and 34·5 kV power supplies.
'These comprehensive signalling and electrification upgrades will provide ViaMobilidade Linhas 8 e 9 with state-of-the-art technology that will improve the availability and reliability of the system, while also enhancing the overall passenger experience', said Andreas Facco Bonetti, CEO of Siemens Mobility in Latin America, on April 12. 'The modernisation of both lines will also provide the basis and ability to pursue future signalling and operational improvements that can further increase automation, capacity and energy efficiency.'