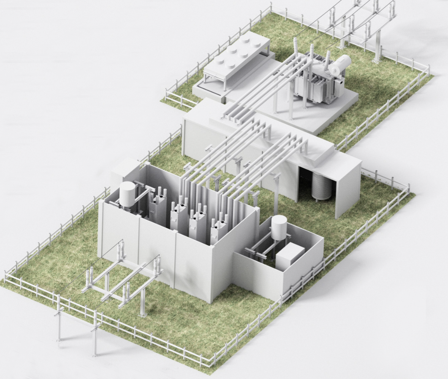 UK: Hitachi ABB Power Grids has announced a partnership with battery technology specialist Zenobē Energy to supply equipment to convert power from batteries to energise 25 kV 50 Hz overhead power supplies.
According to the two companies, this will be the first time that batteries will be used to provide overhead traction power in the UK.
Zenobē's batteries will be coupled with Hitachi ABB Power grids' static frequency convertors to convert the direct current from the batteries into AC.
This is aimed at specific applications such as providing power to depots or to defined sections of OHLE during engineering possessions, and could help to mitigate some of the challenges of isolating power supplies during renewals and enhancement work.
The first planned deployment will be to provide 24/7 traction power to depots.
'Static frequency convertors have been used widely in Europe and worldwide, and the first application for use in the UK was successfully implemented by Hitachi ABB Power Grids at the Potteric Carr site on the East Coast Main Line for Network Rail', said Ian Funnell, Country Managing Director for Hitachi ABB Power Grids in the UK. 'Using this proven technology, together with battery energy storage, provides a flexible and cost effective solution for powering depots and sections of overhead lines.'
'Zenobē Energy brings a strong track record of being the first to apply the benefits of battery storage to the energy and transport sectors', added James Basden, founder director at Zenobē Energy. 'Zenobē is committed to owning and operating battery systems on the traction power system and to bring new third party investment to support the electrification of the rail network.'