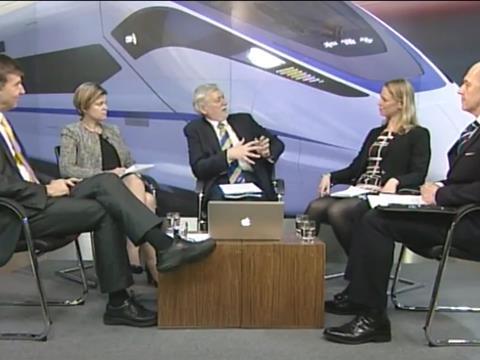 RAILWAY GAZETTE TV: More than 370 viewers in 20 countries registered to watch Railway Gazette's interactive live debate on high speed rail on February 25.
Sponsored by Bombardier Transportation, the latest in RG TV's debate series assessed the future of high speed rail over the next five decades saw Chris Jackson, Editor-in-Chief of the Railway Gazette Group, joined by four expert panellists who addressed a series of key themes.
Among the central policy issues to emerge from the discussion were the need for high speed projects to be well integrated with other modes and for long-term thinking to influence their initial design. 'High speed rail cannot succeed without connectivity from other modes', argued Amanda White, Head of Rail at Transport for Greater Manchester and a former Senior Route Engineer working on the UK's High Speed 2 programme.
Colin Stewart, Arup's Global Rail Leader, believed that high speed lines must be designed to enable easy adaptation to changing patterns of use over time, reflecting that operating speeds had increased substantially since the opening of the Tokaido Shinkansen in Japan in 1964.
Nicola Shaw, Chief Executive of HS1 Ltd, noted that the line between London and the Channel Tunnel included substantial amounts of asset redundancy, which had 'been costly at the outset but has real value over time', for example in maintaining the railway without undue disruption to trains. The transport and economic side-effects of incrementally upgrading ageing conventional lines remained a key driver in the case for building high speed networks, she added.
The full debate can be viewed on-demand; log-in or register for free to watch.