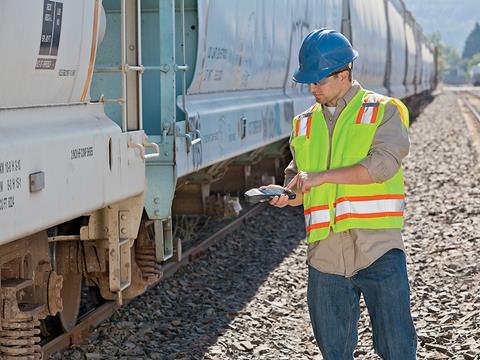 RFID: Mobile computing specialist Trimble has introduced a rugged, handheld computer with an integrated UHF capability designed to read RFID vehicle tags. The Juno T41 R-AEI is able to read simultaneously the AEI tags used in North America and Australia as well as the EPC tags used by European railways and for load tagging in other transport sectors.
Yard workers can read AEI tags up to 2·4 m from a vehicle and EPC tags from 3·5 m, allowing them to remain in a safe place clear of the track. Tags can be read in any direction or orientation. The handheld unit is fitted with Enhanced GPS for location accuracy of better than 2 m, plus GSM, Wi-Fi and Bluetooth connectivity to link with back-office systems.
The built-in computing functions enable yard staff to act on the data in real time, rather than waiting for instructions generated by the back office system using remote data collected as a vehicle passes a fixed reader. They can fill in forms, make notes, and take pictures or videos, exchanging data seamlessly from anywhere in the yard.
With an IP68 rating, the Juno T41 R-AEI meets military-grade ruggedness standards for use in severe environments and a broad temperature range, including stringent requirements for dust and water protection.
The handheld computer is available with both Windows and Android operating systems that can run many standard business applications, but Trimble is also providing a development kit to facilitate integration with railway-specific software.