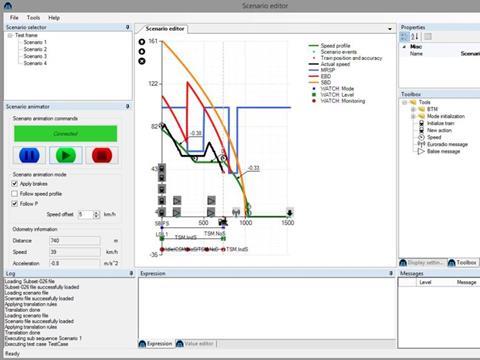 GERMANY: Signalling and train control supplier Thales Deutschland has agreed to use the ERTMSFormalSpecs open-source modelling tool to test braking curves in the development of its onboard unit for the ETCS Baseline 3 specifications.
Tool developer ERTMS Solutions announced on September 9 that it had signed an agreement with Thales Deutschland, adding that the manufacturer expects to achieve 'a disruptive acceleration and cost-cutting effect' in the testing of their OBU, as well as increasing the coverage and depth of the testing programme.
Head of Product Strategy Train Control at Thales Deutschland Christian Wallner said ERTMS Solutions 'has demonstrated the usefulness of the tool and the quality of their service. Their expertise in braking curves is a major element which convinced us to sign this contract. We are convinced that ERTMSFormalSpecs will boost our OBU testing process, bringing large cost and time savings, while increasing the transparency of the testing for our ERTMS customers.'
ERTMS Solutions Managing Director Stanislas Pinte said the contract was 'a critical step' for the Brussels-based company, as Thales Deutschland was the first manufacturer of onboard equipment to use ERTMSFormalSpecs on an official basis. Suggesting that the computation of braking curves was 'the most critical component inside an onboard unit', he said the company was 'proud to help the industry increase the quality of testing systems.'
Read more about the ERTMSFormalSpecs open-source modelling tool in the September 2015 issue of Railway Gazette International, available to subscribers in our digital archive.