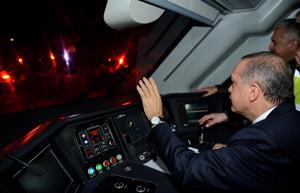 TURKEY: Prime Minister Recep Tayyip Erdogan joined newly-appointed transport minister Lütfi Elvan in the cab of a CAF trainset to travel over the Arifiye – Köseköy section of the Ankara – Istanbul high speed corridor on December 27. Elvan has replaced Binali Yıldırım, who has stood down after 11 years in post in the hope of being elected mayor of Izmir.
Test running is also underway on the new alignment between Eskişehir and İnönü, which is an extension to the existing 251 km high speed line between Ankara and Eskisehir opened in 2009. Trains to Istanbul would rejoin an upgraded main line corridor at Köseköy before sharing tracks with high-capacity suburban services between Gebze and Istanbul. The new line is expected to open in the first quarter of 2014, cutting journey times between Ankara and Istanbul by around 4 h to 3 h.
According to TCDD Director-General Süleyman Karaman, some inter-city services may be routed beneath the Bosporus into Europe once the connection between the suburban lines and the recently-opened Marmaray tunnel is completed in mid-2015.
Meanwhile, the Prosecutors' Office in Ankara is reported to be investigating TCDD over allegations of corruption involving tendering of civil works contracts. The national operator has strenuously denied any wrongdoing, and it insisted that reports on social media of Karaman's detention by investigators were 'completely false'.