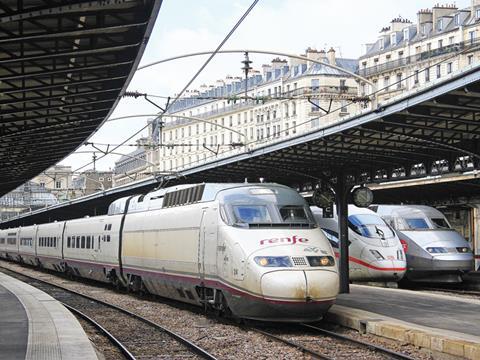 EUROPE: With rolling stock approvals for both national networks now completed under a cross-acceptance regime, RENFE and SNCF are due to start joint international high speed operations on December 15, including a direct service from Paris to Barcelona. Bookings for the new services opened on November 28.
There will be five trains a day each way, including two between Paris Lyon and Barcelona Sants with a fastest journey time of 6 h 25 min. There will be one train a day from Barcelona to Toulouse and a Barcelona – Lyon Part-Dieu service, as well as a train departing from Madrid Atocha at 15.40 and arriving at Marseille at 22.58.
The new services are expected to carry over 1 million passengers during 2014, with additional trains to be introduced next year to meet seasonal demand. RENFE is to start operations with seven of the 10 Class 100 trainsets it has refurbished to operate on the RFF network in France, equipped with KVB train protection and TVM cab signalling systems and modified to draw traction current at 1⋅5 kV rather than 3 kV DC.
SNCF is to deploy the TGV Duplex trainsets that it has been operating into Spain as far as Figueres Vilafant since December 19 2010. They are to be progressively replaced next year by TGV Euroduplex sets now being delivered by Alstom.