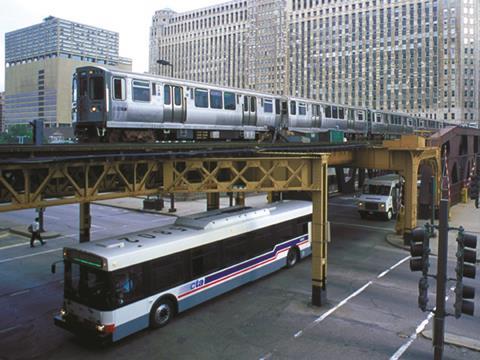 USA: Chicago Transit Authority board adopted locally preferred alternatives for three proposed 'L' extensions on August 3, a critical step in applying for federal funding.
The projects include:
Red Line: an 8·5 km expansion south from the existing 95th Street terminal to 130th Street with four new stations. The track would run in the median of Interstate 57 to 99th Street, then south and southeast along or adjacent to a Union Pacific Railroad right-of-way to 120th Street, continuing at-grade to 130th Street;
Orange Line: a 3·7 km alignment along the Belt Railway Co right-of-way from the current Midway Airport station to approximately 7600 South Cicero Avenue with one new station, but provision for a future intermediate stop at 67th Street;
Yellow Line: 2·6 km of single track from the present Skokie terminal along the Union Pacific right-of-way, then east along the Edens Expressway to a new double-track station south of Old Orchard Road.
The next phase of the projects, following public hearings, will be preparation of an Environmental Impact Statement and preliminary engineering. The total capital cost, including new rolling stock, is estimated at about US$2bn and funding is not yet in place.
An experiment which began last September to remove up to 14 seats from six of the CTA's 39-seat 'L' cars to help minimise overcrowding has ended, with public opinion against converting any more cars to 'Maxi' configuration. Additional stanchions and grab handles were added to the test cars for customer safety. A preliminary plan to strip the cars of all seats was quickly rejected because an engineering analysis determined the heavy passenger load would create excessive stress on - and possible damage to - suspensions, bogies and car bodies. The six Maxis will not be retrofitted with their old seats.