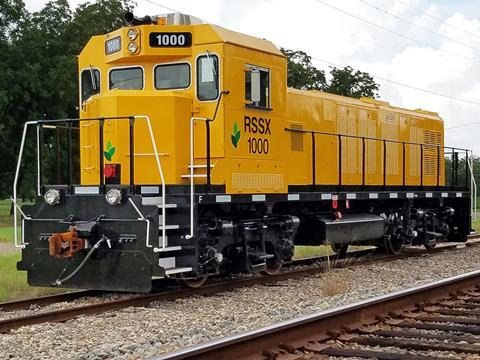 USA: Railserve's first Tier 4 compliant Dual Leaf Gen-Set Locomotive has entered service in Freeport, Texas. The latest addition to Railserve's family of locomotives has two Cummins QSX15 engines, and can use only one when hauling lighter loads.
The Dual Leaf is intended for shippers, industrial users and short line operators which need high tractive effort at speeds up to 50 km/h. Railserve says the Tier 4 units are cost-effective at high utilisation rates, and operation of the locomotive is 'nearly indistinguishable' for crews who are familiar with widely-used SW or GP-type locomotives.
The Tier 4-compliant genset is expected to cut particulate emissions by 99% and NOx emissions by 92% compared to a conventional locomotive. It also offers improved fuel economy when operating at lower engine speeds in the low-notch and idle phases typical for shunting operations.
'Rising fuel costs, environmental concerns and the desire for more efficient operations have prompted rail shippers and receivers to seek alternatives to conventional locomotives for their in-plant rail switching operations', said Programme Manager TJ Mahoney. 'Although our Tier 4 Dual Leaf locomotive looks identical to previous models, users will notice better operating performance and reduced environmental impact'.