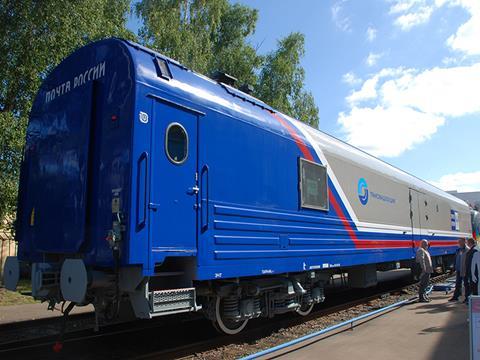 RUSSIA: On September 4 Transmashholding subsidiary Tver Carriage Works, VTB Leasing and Russian Post signed a tripartite agreement for the supply of 45 postal vans for use on domestic and international services. According to the agreement, Tver Carriage Works will deliver the vehicles to VTB Leasing by the end of November.
As the new vans are 1 m longer than the designs they will replace, their capacity has increased by 2 tonnes to 24 tonnes. Maximum operating speed is 160 km/h. The vans will be delivered in two configurations, with our without crew compartments.
Currently, Russian Post delivers more than 50% of its consignments by rail, and it intends to continue to increase the volume of rail transport. 'Rail transport is extremely effective both in terms of costs, and in terms of speed and reliability', said Nikolai Podguzov, General Director of Russian Post. Russian Post has more than 800 vehicles in its fleet.