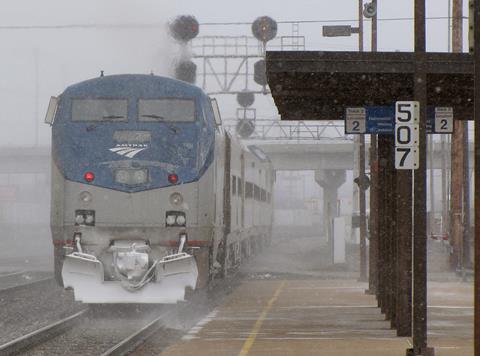 USA: Governor of Illinois Pat Quinn joined officials from Union Pacific and Amtrak in Granite City on September 22 to mark the completion of track renewals on UP's Chicago – St Louis route, marking 'a significant milestone' in the programme to upgrade the route for passenger services to operate at up to 175 km/h.
'The work done today will help residents get to their destinations quickly and efficiently for years to come', said Quinn. 'I am proud that our state is leading the way on this transportation trend of the future'.
The programme is currently on schedule to reduce the journey time of 5 h 30 min between Chicago and St Louis by 30 min at the end of 2015, and by a further 30 min by the end of 2017. By the end of 2015, more than two-thirds of the route will have been upgraded for 175 km/h operation, currently available on the 24 km between Dwight and Pontiac.
In addition to track renewals, the programme has involved upgrading 300 level crossings, with gates installed at farm and pedestrian crossings. Work is due to begin later this year to resignal the route with Positive Train Control, and UP is also building or extending passing loops at 13 locations.
'Working together with the Illinois Department of Transportation and the Federal Railroad Administration, we have made great strides on this important public-private partnership', said Donna Kush, UP Vice-President, Public Affairs, for the Northern Region. 'Our engineering team has produced some very impressive numbers since this project started in 2010', laying 792 480 m of rail, 650 000 concrete sleepers and 1∙18 million tonnes of ballast.
The State of Illinois is contributing $400m towards the project, as a match to the $1∙3bn it has received from the federal government. Deliveries of new diesel locomotives from Siemens and passenger coaches from Nippon Sharyo are due to begin in summer 2016.