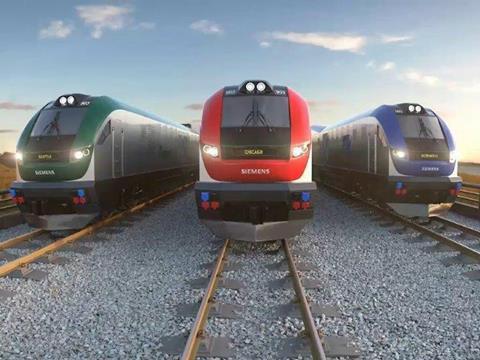 USA: Siemens announced on March 18 that the states of Illinois, California, Michigan, Missouri and Washington had formally issued a notice to proceed with production of 32 diesel-electric passenger locomotives suitable for speeds up to 200 km/h.
The procurement is being led on behalf of the five states by Illinois Department of Transportation, which named Siemens preferred bidder to supply around 35 locomotives on December 19 2013. Electro-Motive Diesel appealed against the decision, saying the Siemens proposal would not meet the specification, but this was rejected by IDOT in February. MotivePower also bid for the contract.
The contract with Siemens covers 32 locomotives plus spare parts, taking the total value to $225m. There are options for an additional 75 locomotives for use in 'regional' services and 150 for 'mainline' applications.
Branded Charger, the locomotives are to be manufactured at the Siemens plant in Sacramento, California, with components 'procured and manufactured exclusively in the United States'. Deliveries are scheduled between autumn 2016 and mid-2017.
Siemens said the Charger will be 'based technically on the Siemens Eurosprinter, Eurorunner and Vectron locomotive platforms'. They will have Cummins QSK 95 16-cylinder 4 400 hp engines meeting EPA Tier 4 regulations, weigh around 109 tonnes and have a starting tractive effort of 290 kN.
'For Siemens this order marks our entry into the US diesel-electric locomotive market and strongly underscores our long-term vision for the US passenger rail market', said Jochen Eickholt, CEO of the Siemens Rail Systems Division.
The Federal Railroad Administration has allocated $808m to fund inter-city fleet renewal services in the five states. As well as the Siemens locomotives, this includes 130 double-deck coaches ordered from Sumitomo and Nippon Sharyo in a procurement led by California Department of Transportation.