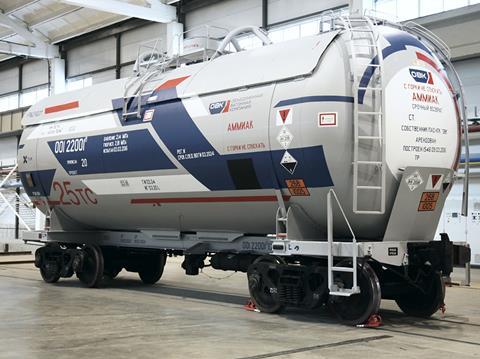 RUSSIA: United Wagon Co's TikhvinСhemMash subsidiary has begun series production of Type 15-6926 ammonia tank wagons, with an annual output of up to 1 000 envisaged.
The design has high axleload 1 520 mm gauge bogies permitting the use of a large diameter tank with a capacity of 92·7 m3 or 60·2 tonnes, which is 10 tonnes more than older 74 m3 designs. The wagons are designed to run for eight years between overhauls and have an overall life of 40 years, giving a significant reduction in lifecycle costs.
A sun shield helps to ensure the safe transport of ammonia loaded at temperatures below -25ºС.
UWC estimated that there are around 5 700 ammonia tank wagons in use in Russia, and 30% of these are due to be replaced by 2020.