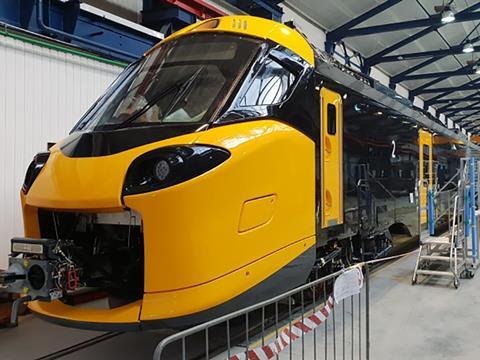 NETHERLANDS: National operator NS has awarded Alstom a contract to supply a further 18 Intercity New Generation 200 km/h electric multiple-units, which will provide it with a pool of 20 units equipped for use on Amsterdam – Brussels services as well as domestic routes.
This would enable the locomotive-hauled ICR stock which is currently used on the international route to be withdrawn in 2025 when it will be life-expired.
The firm order for 18 units confirmed at the end of July follows the initial €800m order for 49 five-car and 30 eight-car IC-NG units which was placed in July 2016.
The IC-NG is part of Alstom's Coradia Stream family. The EMUs will be equipped to operate on the 25 kV 50 Hz HSL-Zuid high speed line as well as the 1·5 kV DC conventional network in the Netherlands. Two EMUs from the first batch, and all of the units in the latest order, will also equipped to operate under 3 kV DC electrification in Belgium.
The first of the initial IC-NG units are currently undergoing testing ahead of entry into passenger service on the Amsterdam – Rotterdam – Breda route from 2021 and the Den Haag – Eindhoven route from 2022. Passenger facilities will include wheelchair-accessible toilets, wi-fi, USB sockets, passenger information screens, intelligently-controlled LED lighting and space for luggage.
If the concession to operate the Amsterdam – Brussels services were to be awarded to a company other than NS at some point in the future, the 20 EMUs equipped for international use would transfer to the new operator.