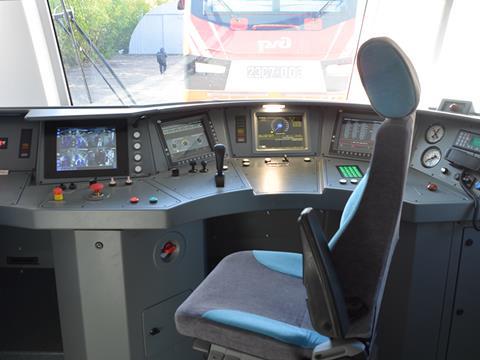 RUSSIA: 'This is truly a step into the future', said Deputy Prime Minister Maxim Akimov when automated operation of an electric multiple-unit was demonstrated at the Pro//Motion.Expo trade fair at the Shcherbinka test centre near Moscow on August 28. 'It was made by Russian engineers, in our technical centres and by Russian Railways', he said.
The Sinara/Siemens ES2G Lastochka EMU can be operated fully automatically, with control centre staff able to intervene if required· It can also be driven manually by a driver located either in the cab or at the control centre.
Further trials are to be undertaken, and the possible introduction of automated operation on high-volume, high-frequency routes such as the 54 km Moscow Central Ring is being considered, although this would require legal changes.
RZD Chief Executive Oleg Belozerov said drivers would be retained onboard to supervise automated operation, stressing that 'their responsibilities will change, but people will still monitor the systems'.
The use of driverless locomotives within large freight yards is also being considered.
'We are very close to perfecting unmanned technology', said Belozerov. I want to say thanks to all of our developers: we use only Russian systems. Moreover, I can say that we are one year ahead of our foreign colleagues. RZD is committed to unmanned driving technology, primarily because it will increase safety and reliability, especially for passengers.'