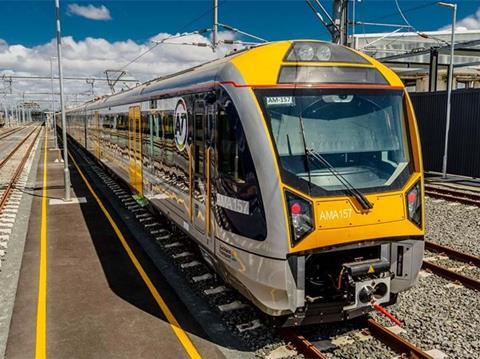 NEW ZEALAND: Auckland Transport and CAF signed a NZ$$133m contract on November 7 covering the supply of a further 15 three-car electric multiple-units from 2019 and the provision of eight years of maintenance.
The order is being funded by NZ Transport Agency and Auckland Council. There is provision in the contract for further units to be ordered, as well as an option for the EMUs to be fitted with battery packages which would enable them to replace diesel multiple-units on the Papakura – Pukekohe route which is not currently electrified.
In 2011 CAF was awarded an initial contract to supply 57 EMUs and maintain them for 12 years. They entered service from 2014, and have since covered more than 11 million km. The latest batch of stainless steel EMUs will be similar to those previously supplied, with two driving motor cars and one low-floor intermediate trailer giving a capacity of 380 passengers per unit.
Auckland Transport said the additional vehicles have been ordered to accommodate growing ridership, with its network having carried 20 million passengers in the past year, an increase of 16% on the previous period. 'With 15 more trains we will be able to operate six-car trains on most services on the Southern, Eastern and Western lines', explained Auckland Transport CEO David Warburton. 'This will give passengers the confidence that they will have a comfortable trip and they won't have to worry about not getting a seat.'
Warburton said Auckland Transport was also planning to increase weekend frequencies to every 20 min on the Southern, Eastern and Western lines, with trains running every 30 min between Papakura and Pukekohe.