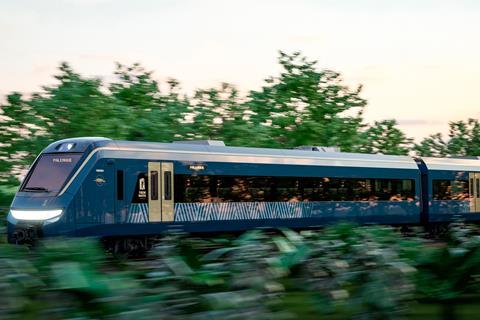 MEXICO: The 36·6bn pesos contract to supply 42 diesel and electro-diesel trainsets for the Tren Maya project was signed in the presence of President Andrés Manuel López Obrador on June 9.
National tourism promotion fund Fonatur announced on May 26 that it had chosen a consortium led by Alstom's Bombardier Transportation México subsidiary as builder of the 160 km/h fleet. This followed endorsement of the group's operational, technical, and economic proposals by its technical committee.
The consortium comprises Bombardier Transportation México, Alstom Transport México, Gami Ingeniería e Instalaciones, Construcciones Urales and Construcciones Urales Procesos Industriales.
Three types of train
There will be three types of train based on Alstom's X'Trapolis platform: 31 sets for regular daytime services will be known as Xiinbal; three P'atal sets will be built for long-distance travel and will include sleeping accommodation with private facilities; and the remaining eight sets will be built as 'special restaurant' trains to be known as Janal.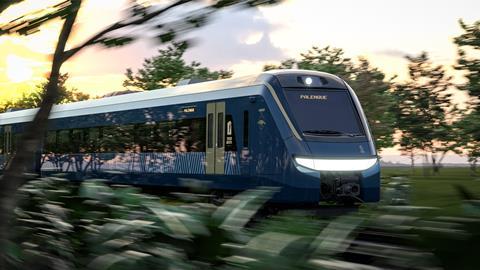 'The design of the three types of train is exclusive to Mexico and inspired by the Mayan culture, where the majestic jaguar's lines, speed and beauty were inspirational elements for the train', said Maite Ramos Gómez, Director General of Alstom México and legal representative of Bombardier Transportation México.
The trains would have the highest safety standards and 'world-class' technology, so they would be modern and comfortable, she said, adding that the economy would be stimulated through the supply chain, with small and medium-sized companies being the main beneficiaries.
Alstom said that the trains would use components and expertise contributed by Bombardier Transportation, 'the most outstanding being its lightweight Flexx Eco bogie, designed for a maximum speed of 176 km/h'. All three versions will offer passengers 'ample legroom at their seats and plenty of space to move around'.
Features such as luggage storage will be derived from Alstom's Coradia inter-city trainsets. A level floor will be provided along the length of the train, ensuring ease of movement for passengers with reduced mobility. High-performance HVAC equipment will be installed and wide windows fitted to give passengers good views of the region's scenery.
Delivery
The contract includes design, supply and installation of ETCS onboard equipment and lineside installations for the 1 500 km Tren Maya network including interlockings, traffic management systems and telecommunications.
Delivery of the first trainsets from Alstom's Ciudad Sahagún Hidalgo plant is scheduled for Q3 2023 when a programme of trial running will commence. Fonatur Director General Rogelio Jiménez Pons said that 72% of the work would be carried out in Mexico, noting that this was a determining factor in choosing the winning bid.
The contract is expected to generate around 4 000 direct jobs and a further 7 000 indirect jobs in the states where the company operates.