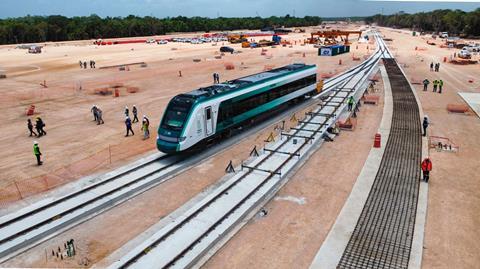 MEXICO: The first four passenger vehicles for the Tren Maya project have arrived by road in Cancún, Quintana Roo state, from Alstom's assembly plant in Ciudad Sahagún, Hidalgo.
Announcing the development on July 10, Mexican President Andrés Manuel López Obrador said that the event held at the Tren Maya depot and workshop site near Cancún's international airport was an 'historic milestone'.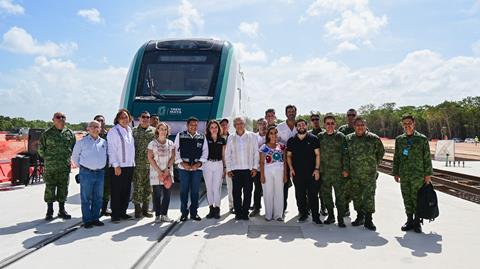 The President expected dynamic testing of the first rolling stock to commence on September 1, ahead of the project's inauguration planned for December.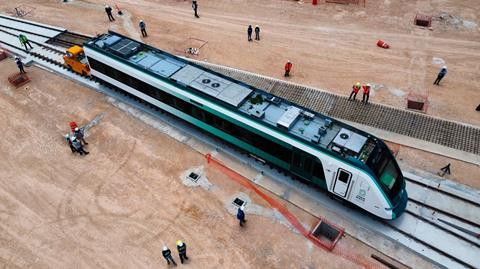 General Director of Alstom Mexico Maite Ramos Gómez described the interior of the train, noting that seating was 'more comfortable' than that found on an aircraft.
A further two trainsets are due to be delivered in August, with more arriving later in the year and the rest due for delivery in 2024.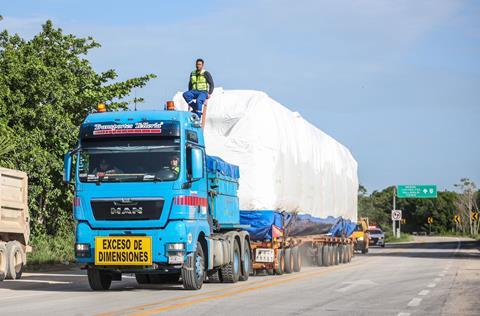 Alstom is leading a consortium supplying 42 diesel and electro-diesel trainsets able to run at up to 160 km/h; other members of the consortium include Gami Ingeniería e Instalaciones, Construcciones Urales and Construcciones Urales Procesos Industriales.
Three types of train are being built, all based on Alstom's X'Trapolis platform: 31 trainsets will operate regular daytime services to be known as Xiinbal; three P'atal sets designed for long-distance travel will include sleeping accommodation with private facilities; and eight sets will be built as 'special restaurant' trains to be known as Janal.