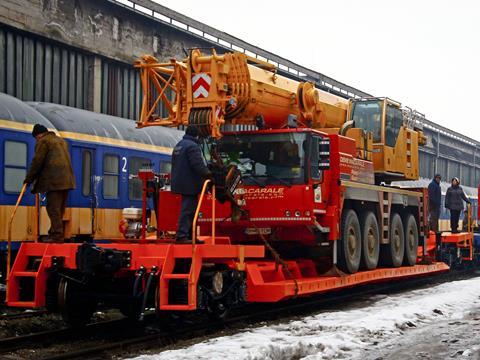 WAGON: A wagon for carrying a heavy road crane to the sites of infrastructure works or derailments on a line in Africa has been designed by Belgian company DAXI and built by Electroputere VFU Pașcani of Romania.
The 1 435 mm gauge wagon is 23·58 m long over the buffers, with a 15·2 m floor to support the crane. One of the bogies and wagon ends can be disconnected and removed to enable the crane to board the wagon. A small onboard engine powers a hydraulic system used to lock the platform onto the track and connect or disconnect the movable bogie.
Techni Industrie supplied the 22·5 tonne axleload bogies, which have monoblock wheels and Faiveley braking systems. The wagon can be hauled at speeds up to 40 km/h, which is sufficient for its specialised purpose.