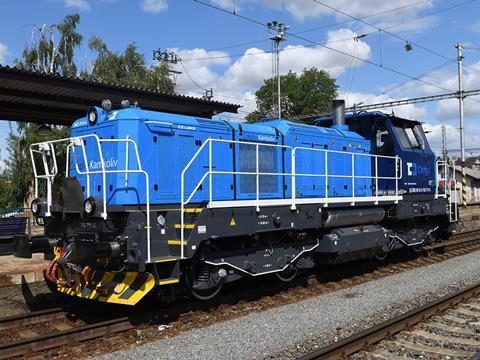 CZECH REPUBLIC: ČD Cargo has taken delivery of the prototype Class 742.71 EffiShunter 1000M Bo-Bo diesel-electric locomotive which CZ Loko has produced by extensively rebuilding a ČKD-built Class 742.
ČD Cargo ordered 50 of the locomotives for shunting and light main line duties in a KC2·1bn contract signed in November 2018. Following trials with pilot locomotive 742.711 (rebuilt from 742.322), series production is to be undertaken in 2020-22.
All components above the frames are new, with only the frames and bogies retained. The 1 000 kW Caterpillar 3508C engine is paired with a Siemens 1FC2 560-6 alternator and electronic controls giving a maximum speed of 100 km/h. The loco weighs 70 tonnes and has an overall length of 13·82 m. Bombardier Transportation is supplying onboard ETCS equipment.
CZ Loko has also recently completed the first Class 744.1, an EffiShunter 1000 powered by Caterpillar C32 engine rated at 895 kW with AC/DC transmission and a maximum speed of 100 km/h. It has electronic controls, cameras, online monitoring and diagnostics and ETCS. ČD Cargo has ordered five of the locos for delivery in 2019-20, with an option for five more. Similar locos have been delivered or are on order for operators in Italy and Slovenia.
Both classes were ordered as part of a major rolling stock modernisation programme announced by ČD Cargo in January 2018.