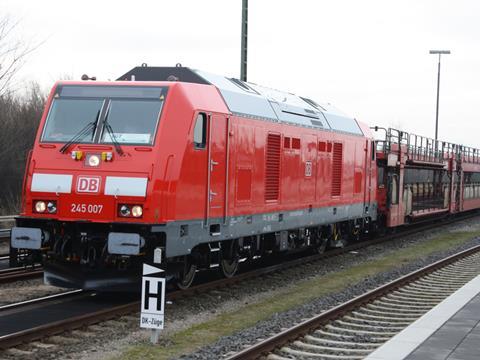 GERMANY: Deustche Bahn has awarded Bombardier Transportation a contract to supply seven Traxx Multi-Engine diesel-electric locomotives for use on the Sylt Shuttle car-carrying service across the 11 km Hindenburgdamm causeway which connects the North Sea island of Sylt with mainland Schleswig-Holstein.
The contract announced on June 6 has been placed within a 2011 framework agreement for up to 200 Traxx ME locomotives, and has a 'value based on the list price' of approximately €27m.
The first two of the Traxx ME locomotives are to be deployed on the Sylt Shuttle from the end of 2015. From mid-2016 each train will be hauled by one 2·4 MW Traxx ME instead of the pairs of Class 218 locomotives used at present. The Traxx ME locomotives will be able to shut down three of their four EU Stage IIIB-compliant engines during the frequent shunting moves, reducing emissions and noise.
Sylt Shuttle services on the 40 km Niebüll – Westerland route are operated hourly on weekdays and half-hourly at weekends, with a journey time of 35 min. 'The Traxx diesel multi-engine locomotive is particularly beneficial to the operator, both economically and ecologically, on short shuttle routes like this', said Ulrich Jochem, President, Locomotives, at Bombardier Transportation. 'It will contribute to relieving the stress on the island's delicate ecosystem while residents will enjoy the reduced noise level of the new locomotives.'
Bombardier's Traxx ME locomotive was described in detail in the June 2013 issue of Railway Gazette International, which subscribers can access in the digital archive.