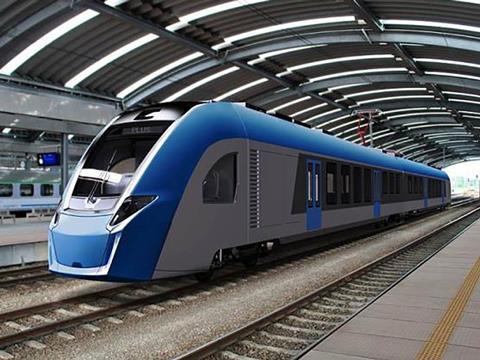 POLAND: A letter of intent for the development, construction and testing of a prototype electro-diesel multiple-unit was signed on September 19 by regional train operator PolRegio, investment and leasing company Polski Tabor Szynowy and rolling stock manufacturer Fabryka Pojazdów Szynowych H Cegielski, which will co-operate on the project with the IPS Tabor railway research institute.
The companies involved in the project are owned or part-owned by national industrial development agency ARP. The development cost is estimated at 30m złoty, half of which would be come from the Innotabor development programme run by the NCBiR research and development centre.
The partners expect to complete the prototype trainset in 2019. Branded Plus, it would be a three-car non-articulated unit with a capacity of 370 passengers, rated at 2·4 MW with a maximum speed of 140 km/h in electric mode and 1·6 MW with a maximum speed of 120 km/h when using diesel power.
It would be capable of running for up to 600 km in diesel mode between refuelling, using electric power where possible to reduce the overall operating cost compared to a diesel-only unit.
While much of the Polish rail network is already electrified and infill schemes are underway, PolRegio believes there is scope to deploy a fleet of 30 electro-diesel trainsets.