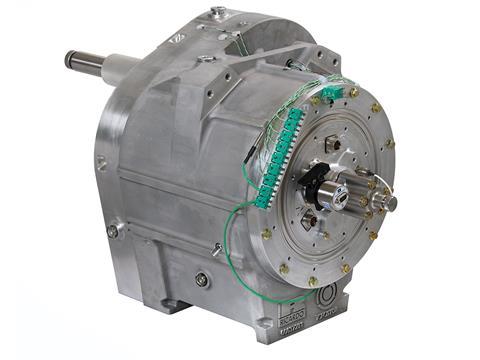 UK: Ricardo has delivered an evaluation prototype of its latest generation of TorqStor carbon fibre flywheel to Artemis Intelligent Power, which is leading a project to develop energy recovery technology which could enable diesel-hydraulic multiple-units to reduce their energy consumption in a way analogous to the use of regenerative braking on EMUs.
The DMU's kinetic energy would be transferred to the compact underfloor-mounted flywheel during braking, and then used during subsequent acceleration. 'Flywheels have the potential to be very energy dense', according to James Taylor, Senior Project Manager at Artemis which is working with Ricardo and Bombardier Transportation on the DDFlyTrain project, backed by the government's Innovate UK scheme and the Rail Safety & Standards Board.
Since DDFlyTrain was first announced two years ago Artemis has modelled the expected performance of a flywheel-equipped DMU, drawing on real-world data from the monitoring systems on Bombardier Class 170 Turbostar DMUs operating on the Edinburgh – Aberdeen route. Modelling predicts flywheel energy storage could provide an energy saving of around 10%, with higher figures possible on routes with more frequent stops.
The delivery of the flywheel will now enable the assembly of a test rig for laboratory verification trials. Ricardo said its latest flywheel represents a significant advance on products available two years ago, drawing on research undertaken for Formula 1 cars. The flywheel spins in a permanent vacuum to reduce energy losses, with transmission by a magnetic gear system which does not require rotating seals or vacuum pumps The flywheel will be mated with Artemis' Digital Displacement hydraulic transmission technology, which combines mechanical electric and software elements to facilitate efficient operation despite the varying speeds and loadings of a rail environment.
There are currently no firm plans for installation on a real trainset, but this could be undertaken in the future following laboratory tests.