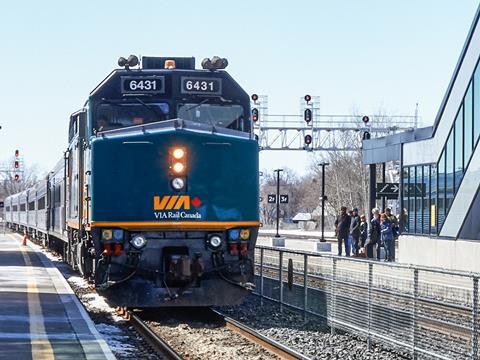 CANADA: Four companies have prequalified to submit proposals for the supply of trainsets to replace the fleet which national passenger operator VIA Rail currently uses on the Québec city – Windsor corridor.
They are Bombardier Transportation Canada, Siemens Canada, Stadler US and Talgo.
The shortlist announced on June 18 follows a request for qualifications issued on April 16. The companies have until October 5 to submit proposals, and the new trainsets are expected to enter service from 2022.
VIA Rail is looking to procure 32 push-pull trainsets, offering improved accessibility, Tier 4 compliant and more fuel-efficient diesel engines and the option to operate on electrified lines in the future.
'By inviting four world-class train manufacturers to participle in the RFP to replace our corridor fleet, we have reached an important milestone of our transformation plan to lead Canadians towards a more sustainable future', said VIA Rail President & CEO Yves Desjardins-Siciliano when the shortlist was announced. 'With a brand-new fleet of modern trains to service the Québec city – Windsor corridor, we will be able to offer our customers a renewed and improved travel experience that will help us convince them to make the smart choice to travel by train.'