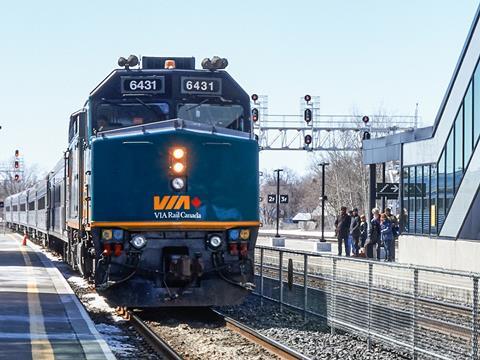 CANADA: National passenger operator VIA Rail formally launched the process to procure a new fleet of trainsets for the Québec City – Windsor corridor when it issued a request for qualifications on April 16.
Following the government's allocation of funding in the 2018 federal budget announced in March, VIA Rail is looking to procure 32 push-pull trainsets. These would offer a total of 9 100 seats, with improved accessibility compared to the current fleet, Tier 4 compliant and more fuel-efficient diesel engines and the option to operate on electrified lines in the future.
The deadline for responses to the RFQ is June 6. VIA Rail expects to issue a request for proposals to shortlisted bidders in June, with bids to be submitted by September or October. Award of the contract is planned for December. VIA Rail said bids would be assessed on the basis of 'financial capacity, supplier experience, proposed solution and deliverability'.
'With a new fleet, VIA Rail will be able to offer a modern travel experience to its customers, at a greatly reduced environmental impact', said VIA Rail President & CEO Yves Desjardins-Siciliano when the RFQ was issued.
He said the new fleet would enable passengers to travel more quickly and more safely in vehicles which would be 'better-adapted' to modern life, with improved wi-fi, 'quiet and pet-friendly' coaches and compartments for large luggage including skis and bicycles.
The fleet 'will also allow VIA Rail to remain the most accessible mode of transport in Canada for people with disabilities, by meeting or in certain areas, exceeding universal accessibility standards', he said. 'This important milestone of our transformation plan will convince more Canadians that VIA Rail is truly the smarter way to travel in the Québec City – Windsor corridor.'